Education is key to a stable future.
Breaking the cycle of generational homelessness and poverty starts in the classroom. That's why we put education at the heart of our program for adults and children.
With a safe place to call home, our families can focus on the education they need to build economic stability and well-being that passes from one generation to the next. While kids attend school, parents develop their potential as providers and advocates for their children.
Adult Education Programming
We help adults identify educational goals and provide a structured program to achieve them. Our instructors have years of teaching experience with diverse populations and are dedicated to helping adults realize their potential as parents, students, and life-long learners. During their first year at Saranam, adults complete more than 250 hours of on-site, academic coursework and some finish their GED. Then, with financial aid and scholarship support from Saranam, adults enroll in college-level academic or vocational courses at an accredited institution.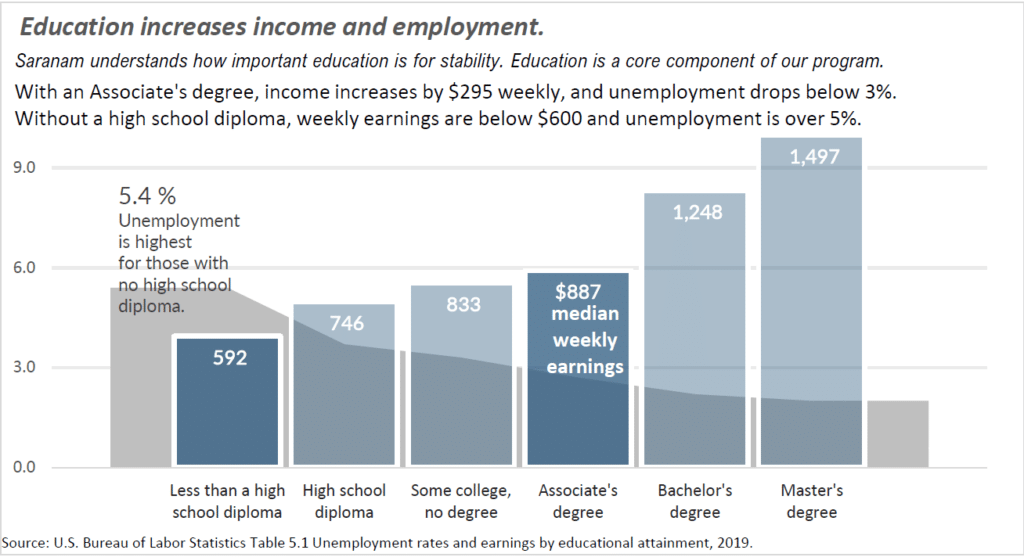 To help adults and children learn and practice skills they need to maintain employment and a stable life outside of Saranam, we also offer family life skills classes.
Programming includes:
Academic skills assessment
GED preparation
Individualized academic instruction
College success courses
Life skills classes – communication, parenting, financial management, and more
Employability skills classes – resume building, interviewing, job searches, research, and presentations
Children's Education Programming
We complement what kids learn in the classroom with enrichment programs including:
Weekly reading circles for preschoolers
Individual tutoring
Age-appropriate life skills classes
Weekly educational games for different developmental groups
A life skills curriculum integrated between adults and children
Watch our Executive Director talk about how education can end homelessness!